Even in the construction materials industry, we are taking giant steps toward the world of Industry 4.0 – production is constantly becoming more digital and smarter. Today, important production tasks that once required a lot of bulky IT equipment require only a smartphone with the right app in someone's pocket. The workers appreciate this and have taken to it well.
Especially when it comes to plant data collection and information acquisition, smartphones are replacing older technologies. With the new A+W Smart Companion – the scanner app – A+W Cantor is taking advantage of the new graphical functions and convenience of smartphones and making production and storage smarter. The app is available for Android and iOS devices and can be downloaded from the Google Play store or Apple AppStore. The advantage of the scanner app is that it can be used quickly and without a lot of training since the user interface is nearly self-explanatory. In addition, it can not only scan, but also provide the user with important information.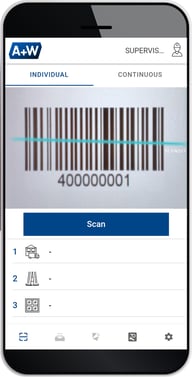 The app can be used with A+W Cantor CIM or ERP. It supports digital work, information is transmitted in real time, and goods transactions are booked immediately. There's almost no more paper in production.
Currently, the app can be used for storage and production.
Goods receipts can be booked in the warehouse quickly and easily, materials can be booked in and out and transferred. Inventory is also faster and more accurate with the A+W Smart Companion. In production, A+W Smart Companion helps workers book elements on racks and request material at various workstations. Using the smartphone camera, it is also possible to scan several barcodes at once. This saves time and no code is required.
Each booking appears in the A+W Cantor system in real time, which means that it's possible to see from every workstation, even in the office, where elements and racks are located. With dynamic forms, A+W Smart Companion also makes it possible to record machine maintenance and complaints.


Everyone is used to using apps everyday. Therefore, it seemed obvious that we should introduce apps in our day-to-day work. One of the main reasons is surely that the A+W Smart Companion offers us a more flexible flow of information in individual areas. In addition, people are generally more willing to interact with an app than with websites or PC applications.
The goal is to use the A+W Smart Companion sensibly and in structured fashion to make processes more efficient.
Martin Raßloff
Director of Information Technology, Müller+Co GmbH