In June 2021, PRESS GLASS, a leading flat glass processor, and A+W Software, the leading software provider for the flat glass and window industries, started cooperating on a project to build a new, highly automated insulated glass production plant in Lithuania.
This project is the culmination of several years of technological dialogue between the companies. PRESS GLASS has made a strategic decision to successively automate its insulated glass plants. An analysis focused on the complexity and effectiveness of software solutions for the glass industry resulted in the formation of a partnership with A+W Software.
From a technical point of view, a systemic approach to dynamic optimization and automation of the cutting area, management of automatic sorters, packaging optimization, and capacity planning all played a key role in this decision.
Another important factor is A+W Software's long-term development strategy, which makes the Polish office a dynamic unit operating on the local market, one that at the same time supports activities in other markets. This enables A+W Software Poland to increase the available resources and develop its employees' skills for various markets that are important to PRESS GLASS.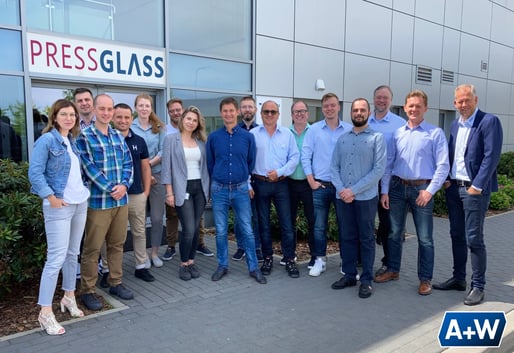 There was a kick-off meeting in Szczecin in the first half of July; project teams from both companies participated, thus initiating the commencement of this joint project.
Hubert Woźniak, Country Manager A+W Software Poland commented: "Although A+W is a global software provider for the flat glass and carpentry industry, with the global nature of our business, we always try to be as local to the customer as possible. It is the development of local organizations that allows us to better understand the challenges our clients face and respond to these in the form of solutions and the functionality of our products. We are very pleased that PRESS GLASS appreciates this fact and that we will have the opportunity to work together on this unique project, which will create one of the most modern factories in the flat glass industry."
"This new factory will provide an opportunity for PRESS GLASS to do detailed benchmarking with regard to productivity, factory yield etc. The mixture of concepts and solutions that will contribute to this project will allow us to find the best way into the future of the glass industry," adds Alfred Cortisse, COO of the EMEA/APAC Business Unit A+W Clarity.